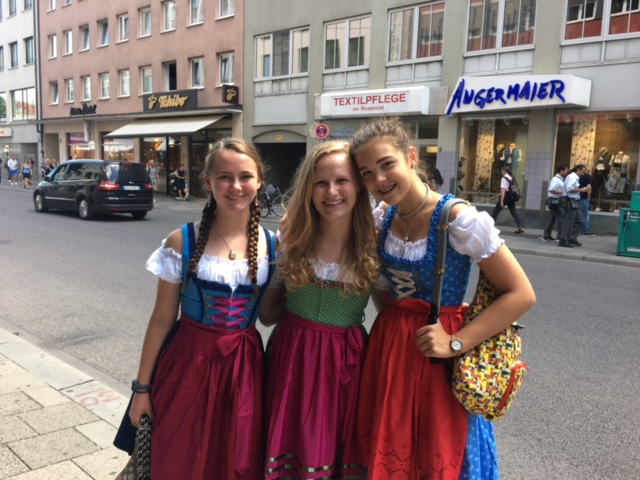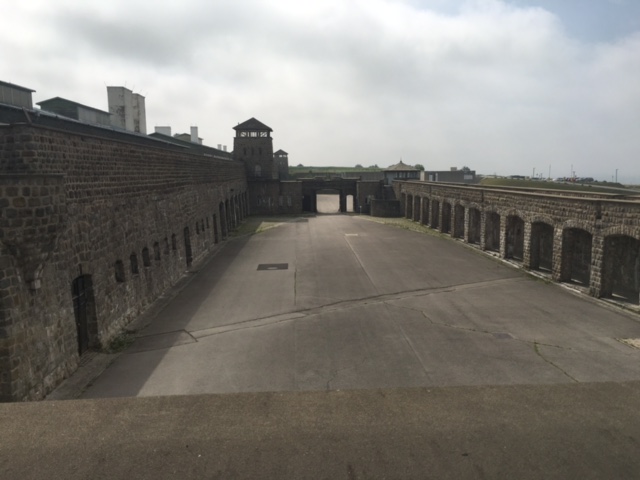 Hello! It's Jenny! Honestly, I was hoping that I wouldn't have to write a blog, like last year in Jamaica; however, here this is. This is sort of an update post for the past couple of days. Two days ago, we had a Summerfest at the House of Hope so we started off our day by sleeping in until eight o'clock. We got some dearly needed rest. Despite our work here not being physically exhausting on our bodies, like throwing concrete blocks in Jamaica, it's mentally and spiritually taxing to be immersed in a different culture, different language, and different experience, but still find connections and build relationships. This is even more wearing when you add social anxiety to a week entirely comprised of social settings. The Summerfest is basically a party the House of Hope hosts every summer with traditional Iranian food and is an opportunity for all the refugees to relax, eat, dance, and play. Some of the refugees brought food they made at home and Jenna, Eva and I made a killer salad loved by all. Most of the men helped grill kebab meats on skewers and seasoned tomatoes, while the women mostly talked or played with the children. I was helping with face painting, so three of the little boys wanted their face painted like Spider-man. Unfortunately, by the end of the party, all the little faces had been washed clean. Also at the very beginning of the day, the little girl stomped on my foot and broke off half my toe nail and it started bleeding, so I am now ever so slightly crippled. There was Iranian, Afghan, and Syrian music playing and some of the men started dancing and then all the kids joined in. The dancing looked like they were side stepping in a circle with their arms floating in the air, but it was way more graceful and elegant than this description depicts. After their beautiful dancing, we decided to show them some of our American culture, so we cranked up the cupid shuffle and Macarena and proceeded with the most ridiculous looking displays ever.
During our devotions that evening, Hamid shared his testimony of coming to faith and his experience as a refuge from Iran, which was very powerful. The next day, we woke up way too early in the morning because we were leaving Linz. Before we left, though, a refugee man stopped by early to drop off presents for all of us. He gave us each a beautiful, leather id case/coin purse. I am sure he could have sold them for a lot of money, but he chose to give them to us.
Our first stop that day was at the Mauthausen concentration camp. I am an extremely emotionally person, so I went into the day know I would be crying. Nothing can prepare you for the actuality of the atrocities. There were "death stairs" leading down to a quarry where they used the victims as slave workers and Nazis would push them down the stairs and off the cliffs for fun. There were sketches drawn by people showing them as emaciated to the point of skin and bones. We went through the gas chamber and where the bodies were cremated, and after all of this time, you can still smell death. I'm glad I wasn't hungry for breakfast, because I would have thrown it up. None of my words are even doing justice to it. It was horrifying.
Switching to a lighter note, we drove to Salzburg and barely made it in time for the Sound of Music tour. It actually left four minutes earlier but came back for us. Thanks to my mom who raised me watching "Chitty, Chitty Bang, Bang," "Mary Poppins," and "The Sound of Music," I was ecstatic. I had purposefully worn an outfit like Maria's, and my hair coincidentally looks just like hers. It was a four-hour tour, but I consider it entirely worth it, for the opportunity to run in a field of flowers, "blumen," as they are called in German, singing, "THE HILLS ARE ALIVE WITH THE SOUND OF MUSIC, AHHHHHHHH," and twirl around with the alps as a backdrop. Hopefully, there is a photo of that joyous occasion somewhere accessible to you. Then we drove back to Munich through the beautiful greenery and pouring rain and checked in at our hotel around nine at night. We were all famished so we went to the hotel restaurant for dinner but promptly left because of how stupidly expensive their water was, but they made up for it with these adorable tiny jam jars they had on the table at breakfast which I took multiples of! We finally got food from Vapiano, a delicious Italian chain we also had in Austria. By the time we finished devotions and discussed our events of the day, it was midnight and we were exhausted.
We spent all day Saturday and Sunday exploring Munich and enjoying the culture and people of Germany. We ate good German food and went to the Neue Pinakothik museum where we saw Van Gogh's "Sunflowers." Monet's "Waterlilies," and works by Manet, Degas and many other incredible artists. We climbed to the top of St. Peter's Tower where you can walk around and get a 360-degree view of the city. But you do have to climb 300 stairs in a tightly confined space to do it. The top was amazing, but getting up and down… not so much. We also went to the largest park in all of Europe, the English Gardens and saw guys surfing on a river that flows through the park. It was really cool. We flew out of Munich on Sunday evening and landed in Paris around 10:30 Sunday night.
Drivers from the hotel picked us up at the airport and we paid them extra to take us by the Eiffel Tower on the way back to the hotel. We went around the Arc De Triomphe on our way there. The Eiffel Tower is beautiful. It was raining but it still sparkled and glowed lit up against the dark sky. We got a group picture and several individual ones before heading back to the hotel. The next morning, we met in the lobby at 7 to head out and find a good café for breakfast. We found one and ordered delicious cappuccinos and hot chocolates (which were hot milk with tiny pitchers of melted chocolate for us to pour and make our own!). We had real French croissants, eclairs, Belgium waffles and the best raspberry jam I have ever had. We then found a shop which had quiches, macaroons and hand-made chocolates. We had just enough time to run into the Louvre. Inside, we saw the "Winged Victory" statue, the "Mona Lisa," and "Liberty Leading the People." Next stop was the airport and then home. There were a lot of issues at the airport but since we made it home, no biggie. What a trip.
-Jenny Barnes